8 Top Tools and Apps for Writers!
Whether you are a new or seasoned writer, it can be confusing trying to figure out what apps and tools are the best ones to help you write your best work. You have probably heard of some or even all of these, but I wanted to bring them all together and discuss their pros and cons and information about each.
I'll be talking about one paid and one free version of each of the basic tools, distraction-free tools, genre-specific apps, and also going into detail on two screenwriting tools available.
No matter what you write, there are apps and tools that want to make it easier for you to write better, faster, and in a way that works best for you.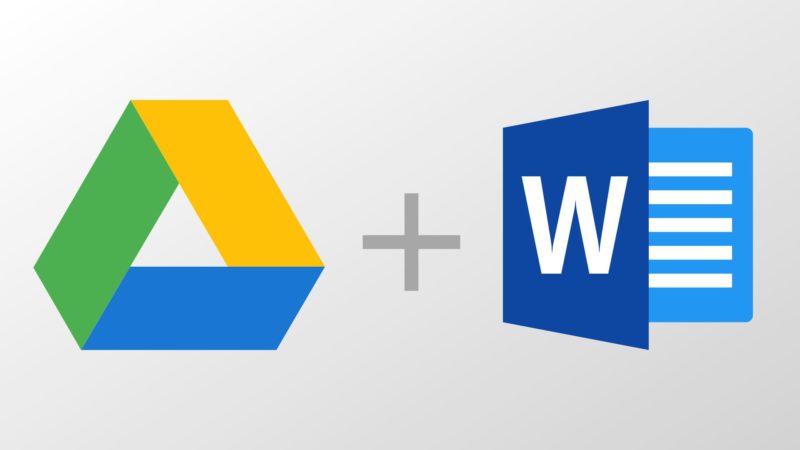 To start with the very basics, let's discuss Microsoft Word and Google Drive/Keep. Overall, if you don't want to pay for separate tools and apps, most people already have either or both of these tools. If you do not have MS Word, LibreOffice and OpenOffice are pretty good (and free) knockoffs. Both MS Word and Drive have pre-installed templates that can help you, too. They are easy to use, easy to access, organize, and share, and if you are already successful with these, then keep going!
Pros:
For Google Drive and Google Keep, a major pro is that they are free and easy to share and organize. Google Drive specifically makes it incredibly easy to collaborate and stay very organized. As a writer, I personally am using Drive to type this write now. Google Keep is a note app that allows you to share notes with anyone and updates in real time.
For MS Word, the major pro is that it is still an industry standard, everyone knows how to use it, and it has a ton of features. You can do customizable toolbars, great formatting options, already-known keyboard shortcuts, and you can share and collaborate, as well as track changes. Of course the automatica catching of spelling and grammar errors are a huge help, too.
Cons:
Google Drive and Keep are both tied directly to your email address and anyone can share anything with you if they know your email. If you aren't careful about naming things in a way that makes sense, Google Drive can get overwhelming and messy. Also, Google Drive can lag a bit if the document is 50,000 words and over.
MS Word is not free. You'll spend $80+ for the license for one computer. Plus, it can be pretty distracting and has a ton of features you probably won't use. Another con is when moving documents from older versions of Word, you often lose formatting, and the newest versions can be somewhat confusing to find certain features. Older versions felt more intuitive.
Distraction-Free Writing Tools & Apps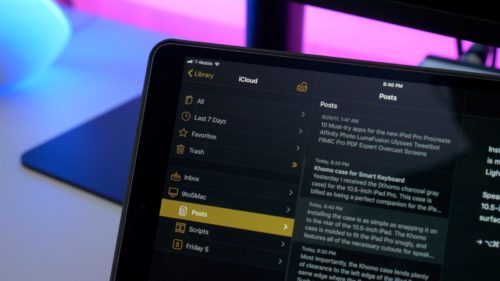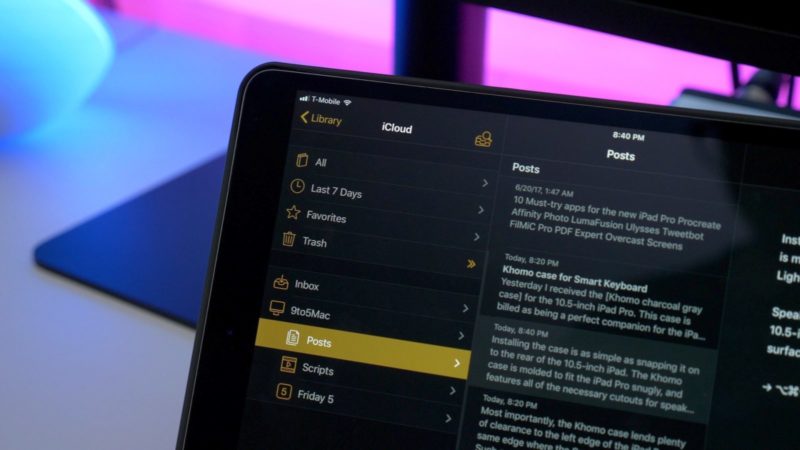 You will find distraction-free writing apps and tools all over the place. What you really need is one that offers what you need, even if it hides it until you're ready for it, as opposed to not offering what you need at all in a bid to stay totally distraction-free.
A very popular one is Ulysses. It was actually listed as PCMag's Editor's Choice this year, and is built on Markdown, which is an in-between way of writing using set of codes that allows you to have benefits of both rich text formatting and HTML flexibility. Ulysses is available for MacOS and Windows for $45. The demo is free.
Pros:
A well-designed user interface, intuitive and easy to use. It has tutorials and help options and includes a "cheatsheet" for Markdown. It is easy to stay organized, you can create file groups, hierarchies, and can collect everything for one project easily in one place. Ulysses allows side-by-side editing with two windows next to each other. Also, Ulysses can connect directly to WordPress and Medium for blogging.
Cons:
Not great for outlining or using bullet points, and Markdown is something new to learn, which can be a deterrent. Also, in windowed mode, Ulysses does not allow you to hide the toolbar, though it does in fullscreen.
Another distraction-free tool is FocusWriter, which, like its brethren, aims to given you a blank page on which to write without any annoying tools or popups.
Pros:
The main pro to this one is the fact that it is free and cross-platform, working across Windows, Mac, and Linux. It also includes timers, alarms, goal setting, themes, spellcheck, and fun typewriter sound effects.
Cons:
There really aren't any cons to FocusWriter. If you are looking for a straightforward distraction-free writing tool with not a lot of bells and whistles, this free cross-platform tool is a great choice.
Genre Writing Tools & Apps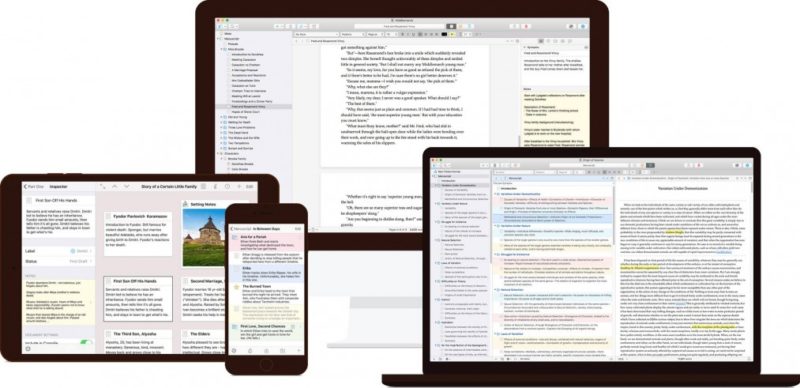 When you are writing a novel, you can spend way too much time just trying to organize your manuscript and get everything where it needs to be, in the right order, so it all makes sense. Even if you started with an outline, sometimes chapters need to be moved, or the timeline is wonky or you need to shift things around. Tools for writing genre books are perfect for this. One tool we have already touched on, Ulysses, can also be used in this capacity.
But one very popular novel writing tool is Scrivener. Scrivener is a software that was designed for writers, specifically. It costs $45 for Mac and $40 for Windows and is available across all platforms, but does offer a 30-day free trial to check it out. A major pro of the free trial is instead of the 30 days ticking down from when you first download it, it only counts the days you use it. If you use it twice per week, you'll have the trial for 15 weeks. Despite it's somewhat complexity, Scrivener is an incredibly popular and much-loved tool, especially for organization.
Pros:
If you are visual, you will love how Scrivener creates index cards so that each chapter and scene has it's own card and you can add notes and change each one. You can also add placeholder blank cards. Users say this is a great way to see a top-down overview of their works in progress. You can also use Scrivener's color-coding system to stay organized, set targets, and when you're finished with you project, click "Compile" and it will stitch together your entire work, adding a cover page and page numbers. You can also convert files for ebooks and blogs.
Cons:
It's complicated. Literally. Make sure you use Scrivener's long tutorial. You'll need it, as it covers all the different features and uses. It seems like it is more designed for Mac operating systems, with the tutorial focused on that version, which may leave you wondering where certain menus or the "sync" button is.
yWriter is a different scene-based writing tool, and this one is free. It feels and looks pretty technical and users say they love seeing the data and how organized it is. yWriter encourages writers to write individual scenes at a time, instead of larger chapters. Basically it sees the scenes as the building blocks and wants you to write them separately and be able to move them around however you'd like.
Pros:
It's free! Always a huge plus. The app collects a ton of data and statistics as you write, which can be great to access and use. One example of some of this data is when you look at any chapter, you can see the names of all the scenes it contains, how many words are in each scene, and whose point of view is used to tell that part of the story. Plus, the entirety of the software is free, though you can choose to pay to register their app. The interface and menus are pretty intuitive and can denote each scene's status very easily, noting if it is in draft phase, first edit, second edit, etc.
Cons:
Not available for Mac or iOS, only for Windows and Linux systems. There are no provided templates, though you can create your own in the software.
In terms of the fee versions: prices for the optional registration is very reasonable: silver status ($11.95) or gold ($24.95). Registering at either level means you get a serial number to enter into your app, but it doesn't change what the app can do, and you don't get any special treatment, which can be confusing as to why it is even there (gold status comes with a discount on creator Simon Hayes' manuscript evaluation service and his ebook creation service).
Screenwriting Apps
If you are trying to become one or are an experienced screenwriter, the last thing you want to focus on is the formatting, typeface, and spacing of the document. In scriptwriting, formatting is very specific. Like how before any line of dialogue, a character's name is centered and in all capital letters, and certain very specific abbreviations are used in scene settings. These formats are highly specific and uniform to make sure everyone knows what is happening in the script and understands it when it comes time to produce the work.
Two apps that cater to screenwriting and get high marks are Final Draft and WriterDuet. Final Draft is widely considered to be the industry standard for screenwriting, used by the likes of James Cameron and J.J. Abrams. It is also the number-one selling screenwriting software in the world, which says something.
Pros:
Many consider it to be the absolute best, and it is also used by a large amount of people. Final Draft is available on Windows, Mac and iOS platforms. It has an insane number of features, with over 100 templates to help you get accurate formatting and show examples from major shows like Mad Men and How I Met Your Mother.
Cons:
It costs $250 and because it has been out for quite a while, some call it a "dinosaur" in terms of newer technology. Users have said the most recent update is buggy and slows it down and that they are still playing "catch up" when it comes to collaboration abilities and cloud storage.
I couldn't show you the most expensive screenwriting tool without also talking about one you can access for free. WriterDuet is a newer tool and aims to value content over formatting, along with keeping the cost low or free for everyone. WriterDuet has a lot of positive reviews from users, and some even say that the creator of the tool engages with people and is open to suggestions for future features.
Pros:
It has a free version, which is online only but still allows you to save to PDF. Users have said they really love how similar it is to Final Draft and say that the best thing about WriterDuet is the extensive options it has available.
Cons:
The free version does have some limitations. You can upgrade to the "Pro" version for $99 and the main differentiators is that the paid version has offline mode, a desktop app, infinite revision tracking, automatic backups to cloud storage, and some customizations.
Bonus Writing App!
The owner of Authors Unite, Tyler Wagner, does his best writing and brainstorming while outside taking a walk and clearing his mind. For Tyler, his favorite writing tool is his voice memo app on his phone!
He says, "When I'm out for a walk, I love just turning on my recorder and talking it out. Ideas, plans, stories, anything. I just like to get it all out like a braindump. I can go back and listen to it later and cherry pick my best ideas. It really helps me clarify my thoughts."
Have you used any of these tools? What was your experience? Would you recommend them to a friend? Tell us what you think!
Tyler Wagner is the founder of Authors Unite where he helps people write, publish, and market their first profitable book. He has helped people create passive income, become leaders in their field, start businesses from their books, and much more. Since starting Authors Unite, he has helped 250+ people become profitable, bestselling authors. He is also the bestselling author of Conference Crushing, a book designed to help business people and entrepreneurs maximize their ROI at networking events, conventions and conferences.